Featured patient experiences
Featured Case 09/20: Cosmetic Jaw Surgery

Patient:
Chad
The problem:
Chad is a 30-year-old who had concerns about his facial appearance.
In particular, he was not fond of his relatively short and "square" facial shape.
He wanted to have a smile that was more attractive but not certain what it took to fulfill that desire.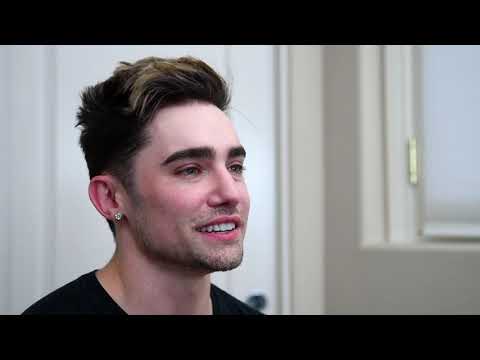 Patient History:
Chad sought numerous consultations for orthodontics (braces), jaw reconstructive surgery, and facial plastic surgery.
After seeing multiple specialists, he narrowed his search down to 2 orthodontists and 2 Oral & Maxillofacial Surgeons from which to choose.
He had no perceptible issues with his bite or chewing ability.
The other orthodontist and Oral & Maxillofacial team recommended he have braces and lower jaw advancement surgery.
After numerous consultations, Chad felt comfortable with our recommendations to address his cosmetic request.
Pertinent Information:
Chad demonstrated what has described as a Brachyfacial (short vertical and square shape) presentation.
His lower face (below the nose to the chin) was shorter than the midface (between the brows to under the nose).
He showed very little upper teeth when smiling making him seem aged.
His teeth and bite appeared very acceptable and stable.
Computer simulations were performed to give Chad a sense of facial proportions.
Since his teeth and bite were stable, only minor orthodontic fine-tuning was necessary.
He needed skeletal and soft tissue solutions to his cosmetic problem.
Procedures:
Cheiloplasty or lip lift contouring was performed.
Reconstructive augmentation of his upper jaw was performed to increase vertical length and show the appropriate amount of his upper teeth.
The upper jaw surgery is known as a Le Forte I osteotomy.
Reconstructive augmentation of his chin was performed to also increase the vertical dimension.
This approach to the chin is called a genioplasty via Mandible (lower jaw) inferior border osteotomy.
All cosmetic jaw surgery was performed inside the mouth so no visible scarring would occur on his face.
Soft tissue filler was placed to soften the deep fold under his lower lip.
All procedures were performed as an outpatient in our AAAHC accredited surgery center.
He was discharged on the morning of surgery to the comfort of his home.

Treatment Course:
Chad had a very uneventful recovery.
He experienced typical facial swelling for about one week.
He was instructed to stay on a soft diet and non-strenuous activity for 2 weeks.
He completed orthodontic fine-tuning (braces) within 2 months of his surgical procedure.

Commentary:
Facial cosmetics is a function of harmony of hard and soft tissues, proportions, and perception.
Understanding all components of facial anatomy as it relates to aesthetics is paramount to achieving acceptable results.
Addressing the facial bones along with soft tissues is important to determine the true nature and solution to the condition.
It is sometimes stated that "there is usually one correct diagnosis but numerous ways in which to approach it".
Comprehensively trained Oral & Maxillo-Facial surgeons have unique expertise in treating all aspects of the face.
A comprehensive approach to, and surgical skill set of the entire face, is integral to our core competence at Inland Institute.
We are overjoyed to see how pleased Chad felt about his results and overall experience in our practice.