Orthognathic (Jaw) Surgery & Treatment of Facial Deformities
Corrective Jaw Surgery for Overbites, Underbites, and Crossbites
Orthognathic (jaw) surgery is needed when jaws don't meet correctly and/or teeth don't seem to fit with jaws. Teeth are straightened with orthodontics and corrective jaw surgery repositions misaligned jaws. This not only improves the facial appearance but also ensures that teeth meet correctly and function properly.
Call Inland Institute - Oral & Maxillofacial Surgery Phone Number 909-982-8888 with questions or to schedule your consultation with Dr. Gilbert.
Orthognathic Surgery Presentation
To provide you with a better understanding of orthognathic surgery, we have provided the following multimedia presentation. Many common questions pertaining to orthognathic surgery are discussed.
Who Needs Orthognathic Surgery?
People who can benefit from orthognathic surgery include those with an improper bite or jaws that are positioned incorrectly. Jaw growth is a gradual process and in some instances, the upper and lower jaws may grow at different rates. The result can be a host of problems that can affect chewing function, speech, breathing, long-term oral health, and esthetic appearance. Injury to the jaw and birth defects can also affect jaw alignment. Orthodontics alone can correct bite problems when only the teeth are involved. Orthognathic surgery may be required for the jaws when repositioning in necessary.
Difficulty in the following areas should be evaluated:
difficulty in chewing, biting or swallowing
speech problems
chronic jaw or TMJ pain
open bite
protruding jaw
Retrusive chin
Concerns about esthetic facial appearance- See Section on Cosmetic Facial Surgery
Breathing problems- In our practice, all jaw surgery patients are comprehensively assessed (Volumetric CT scan, naso-pharyngoscopy, etc.) for airway obstructions that may be treated in conjunction with jaw surgery. Jaw relationships impact multiple levels of the upper airway. See section on snoring and Sleep Apnea.
Comprehensive Treatment of Jaw and facial deformities
Facial/Jaw deformities result in multi-factorial problems and dysfunction. Dr. Gilbert's unique training and diagnostic approach to your care can comprehensively and concomitantly address the following;
Correction of bite and jaw harmony (upper and lower jaw relationship)
Optimization of function (Chewing, speech, TMJ function)
Facial esthetics. Frequently, facial esthetic surgery is combined with jaw surgery. (lips, nose, chin, cheeks, brows and eyelids, facial wrinkles)
Optimization of the upper airway (nasal septum and turbinates, nasopharynx, oro-pharynx, hypo-pharynx)
Any of these symptoms can exist at birth, be acquired after birth as a result of hereditary or environmental influences or as a result of trauma to the face. Before any treatment begins, a consultation will be held to perform a complete examination with x-rays. During the pre-treatment consultation process, feel free to ask any questions that you have regarding your treatment. When you are fully informed about the aspects of your care, you and your dental team will make the decision to proceed with treatment together.
Technology and Orthognathic Surgery
Dr. Gilbert uses modern computer techniques and three-dimensional models to show you exactly how your surgery will be approached. Using comprehensive facial X-rays, 3 dimensional CT scans, and computer video imaging and analysis, we can show you how your bite will be improved and even give you an idea of how you'll look after surgery. This helps you understand the surgical process and the extent of the treatment prescribed. Our goal is to help you understand the benefits of orthognathic surgery.
Dr. Gilbert was among the first U.S. surgeons to utilize computer-aided surgical simulation in the planning and execution of orthognathic surgery. This technological advancement facilitates optimal functional and esthetic surgical outcomes.
What to Expect
Corrective jaw surgery is a significant intervention requiring many months of preparation.
The surgery is performed in the hospital and can last between one to four hours.
Hospital stays of one to three days are normal.
Braces are maintained during surgery and may need to be removed six to twelve months after surgery.
The greatest impact of orthognathic surgery is the recovery phase.
Patients typically may be off work/school from two weeks to one month after surgery.
Return to normal chewing function may take 2 months and full function may take one year.
Our goal is to ensure you are well taken care of during and after surgery.
Weekly appointments are required for up to two months after surgery.
Featured Patient Experience – Corrective Face/Jaw Surgery
"Meet our patient, Joe. When he came to see us here at Inland Institute, he had a developmental facial and jaw deformity that affected every aspect of his life. We are pleased to share with you his treatment experience. "
Click Here to read more about Joe's experience and treatment process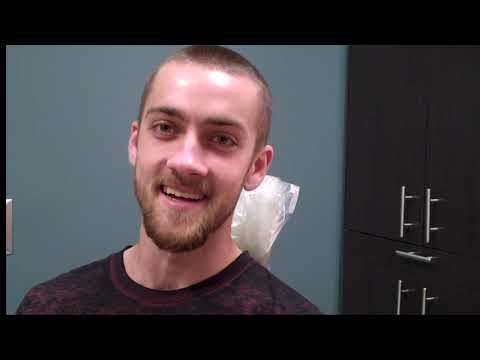 David H. Gilbert DDS, MS, MBA, FACS
5 out of 5 stars based on 7 Jaw Surgery reviews.
---
Patient Testimonial
Doctor Gilbert and his staff are wonderful! I felt at ease when we discussed my condition and the treatment plan was explained in detail. The staff is warm and welcoming and we are grateful for this overall. Thank you Dr. Gilbert and team!

- Isidro H
Patient Testimonial
I donated bone marrow in 2007 and experienced what every person in this country should experience.......first rate care, compassionate doctors, nurses and support staff.......it was great. Fast forward to Dr. Gilbert's office 2019 and this is exactly what I experienced once again. I had a consultation prior to my surgery and Dr. Gilbert sat down and really listened to what I had to say with regard to my issues, fears and concerns regarding surgery. I never felt, as I've felt with other doctor's, that he wanted to be somewhere else. He made me feel like I was the most important patient at that time. Dr. Gilbert's calmness and confidence really allowed me to put my complete trust in him, not easy for me to do. He told me I probably would not have any pain, maybe soreness, but no pain. He was spot on in that regard. His staff is top notch and friendly and answered whatever question I threw at them. I wish all medical interactions were as great as this has been!

- Scott P
Patient Testimonial
Every time that I have gone to Dr. Gilbert's office, I have been treated as family. His staff are exceptionally friendly, as well as professional. The facility has "state of the art" technology, and the atmosphere is one of caring concern! Regardless of the issue that brought you to see an oral surgeon, you leave reassured that you are in the best possible hands. Dr. Gilbert is knowledgeable, and kind, always making you feel confident in his care. (And the dimples are an added benefit). Gloria, Dr. Gilbert's PA, is genuine, proactive and a real advocate! Thanks you Inland Institute!

- Beverly F
Patient Testimonial
Simply amazing! Everyone here was an absolute lifesaver! Thank you all for taking care of me.

- Daniel V
Patient Testimonial
Wonderful experience! Highly recommendthe Doctor and the staff

- Karl J